Introducing the Perfect Gift: "The Lighter Side of Collecting!" Funny Cartoons for Serious Collectors
Professional cartoonist and collector John Stinger, recently announced the release of his new book The Lighter Side of Collecting! published by Tanner Publishing.
Featuring 200 New Yorker-style cartoons and 60 plus pages of humor about the joy of chasing vintage stuff for fun and profit, Stinger takes the reader on a laughing-trip with more twists and turns than a Victorian settee.
Designed to appeal to both young and experienced collectors, dealers, auctioneers, appraisers, flea marketers, show promoters and pickers, the book is delightfully family-friendly, non-offensive and promises to entertain anyone who wheels-and deals in treasures and other magnificent possessions.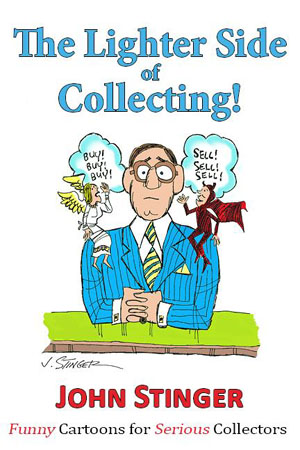 From his New Jersey studio, Stinger's cartoons can be seen in leading publications serving the collectibles market. He sold his first cartoon about antiques in 1973 and in 1992 published his first book about collecting classics. His general line of award winning cartoons is syndicated in the US, Canada and the UK. His monthly political cartoons are distributed nationally by Senior Wire Services in Denver, CO.
The Lighter Side of Collecting! paperback book is available at $15.95 per copy plus shipping. For more information contact stingerfineart@yahoo.com. Or call 908-319-8957.